Oaklawn Cemetery Map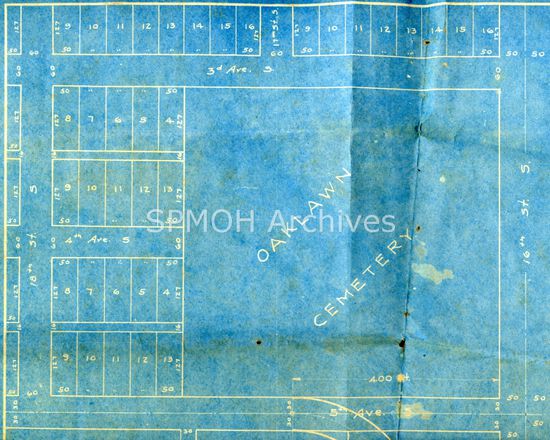 9 March 1926
Oaklawn Cemetery Map, This is a section of a City of St. Petersburg, Florida, Department of Public Works, map referring to a proposed connection to 16th Street South. Oaklawn Cemetery was formerly located in St. Petersburg, FL, just north of the Evergreen and Moffett Cemeteries, on what is now parking for Tropicana Field.
A 1926 St. Petersburg City Directory lists Oaklawn at 16th Street South and 3rd Ave South. Based on various sources, Oaklawn was most likely founded in the later 19th century. In the late 1940's, this cemetery was removed to make way for the construction of the Laurel Park Housing Project. The cemetery's burials were moved to Greenwood Cemetery and Royal Palm Cemetery. St, Petersburg, Florida.
March 09, 1926

Cite as: Courtesy St. Petersburg Museum of History Archives, ID #2004.900.010, "5th Ave. Paving, Proposed 16th Street Connection", City of St. Petersburg, Florida, Dept. of Public Works Map, Mar. 9, 1926.