On Beacon Hill Road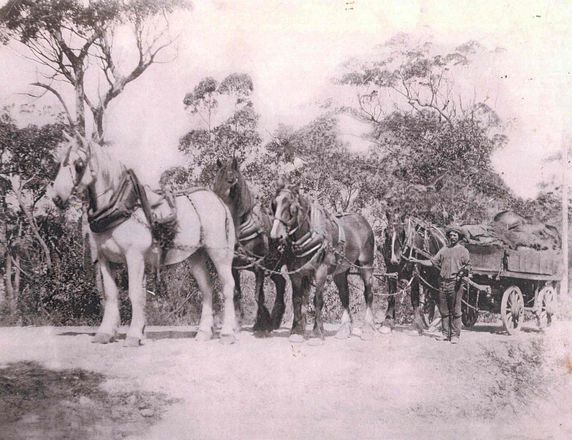 1900 - 1910
A worker from the brick works on Beacon Hill Road, Beacon Hill with a team of horses and a cart.

Beryle R Robson recalled, 'My father, Fred Machon, was employed at the brickworks in Federal Parade, Brookvale, and worked in the clay pit at Beacon Hill. The clay was brought by skips along very steep tracks to the lower yard. Coal was taken to the top works by horse-drawn wagons driven by Joe Clayton, Harry Ferguson and a Mr Kirby for the firing of the bricks. The horses, four in hand, would zigzag across the water for the men and horses. The brickworks manager, Mr Toohey, commuted daily by tram to Brookvale and then walked to Beacon Hill from there.'
(Beryl R. Robson in Never step on the swan and other stories: Glimpses of Warringah's past, p8).